Legends Classic Basketball Doubleheader at Barclays Center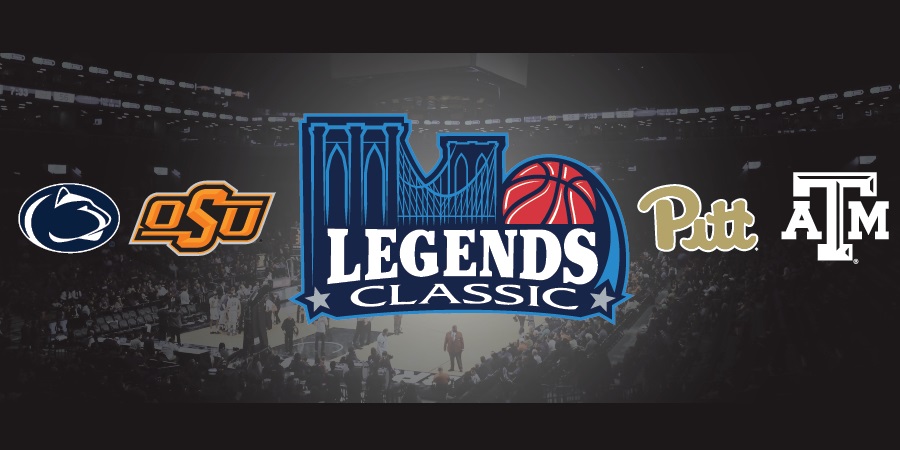 Regional rivals are headed for Barclays Center for the annual Legends Classic on November 20 and 21. Penn State and Pittsburgh, along with Oklahoma State and Texas A&M, will bring major college basketball to Brooklyn. Catch the action at Barclays Center with exclusive pricing on Upper Level or Mid Level seats. Offer includes one $25 Dining Rebate per purchase to use at nearby restaurants. Click "BUY NOW" for seating availability.
The Legends Classic features Penn State, Oklahoma State, Pittsburgh, and Texas A&M playing in the Championship Rounds at Barclays Center in Brooklyn, marking the sixth year that Barclays Center will host the Legends Classic. Penn State, Oklahoma State, Pittsburgh, and Texas A&M will host two games on their home courts in addition to playing a pair of games in Brooklyn. Both days are doubleheaders, so buy your tickets now before they sell out!
Day One: Semifinal Doubleheader
Barclays Center - Brooklyn, NY
November 20 - 7:00pm (ET)
Semifinal 1 (ESPN2)
Semifinal 2 (ESPN3)
Day Two: Championship Doubleheader
Barclays Center - Brooklyn, NY
November 21 - 3:30pm (ET)
Consolation Game (ESPNU)
Championship Game (ESPN2)
Details:
Event tickets will be delivered via email as a print at home eticket to the email provided at time of purchase at least 48 hours prior to the event.
Seats will be assigned at the discretion of the show/box office within the selected section of the venue.
Seats are guaranteed to be together when in the same purchase. Seats assigned in rows in front or behind the same seats are considered together, but almost all seats are side by side including all pairs.
Offer is non-refundable and cannot be combined with any other offer or applied to previously purchased tickets.
Price displayed utilizes all in pricing including processing fees, facility fees, applicable taxes, applicable shipping fee and package items. Price on ticket may not reflect all additional fees and items.
No cash value or cash back. This is a date-specific event. Not valid after show date. All sales final.
DINING REBATE:
Maximum rebate value is $25.00. Dining receipts less than $25.00 will only be fulfilled at pre-tax, pre-tip total. Pre-tax, pre-tip receipts exceeding $25.00 will receive a $25.00 rebate. No future credit will be issued or accrued
Offer valid on dine-in purchases only and requires minimum purchase of one entrée. Excludes taxes and tips
Dining purchase must be made same day event takes place
Dining rebate email must be sent within seven (7) days of dining purchase/event in order for rebate to be processed. Only one receipt may be submitted. One rebate per event, per household
Email a copy or picture of your original, itemized dining receipt, along with completed rebate questionnaire to

[email protected]

Rebate will be processed within 60 days of receipt of rebate email
All requirements must be met for rebate to be processed
Entelliment, LLC is not liable for late, misdirected, illegible, incomplete, stolen or destroyed rebate form or receipt
Offer is administered and fulfilled exclusively by Entelliment, LLC.
Offer is for promotional use only and is non-transferable or assignable and cannot be sold. Void where prohibited by law
Location:
Barclays Center
620 Atlantic Ave, Brooklyn, NY, 11217